Lunch Menu
Menus
Our menus have a new look!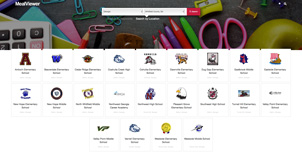 Use the MealViewer to find New Hope Middle School's menus
with information about nutrition and allergens.
Apps are also available for iOS (link)
and Android (link).
Meal Prices
| Meal Prices | Students | Adults |
| --- | --- | --- |
| Breakfast (Elementary) | FREE | $1.75 |
| Breakfast (Middle & High) | $1.25 | $1.75 |
| Elementary Lunch | $2.00 | $3.00 |
| Middle & High School Lunch | $2.25 | $3.00 |
Extra milk costs an additional 50 cents. Reduced breakfast is 30 cents. Reduced lunch is 40 cents.
Those who plan to eat breakfast at school should arrive 20-30 minutes before classes begin.
Free & Reduced Meals Application
Only one application per household needs to be completed listing all school age children on the form. If household information includes TANF or SNAP with a case number, you do not need to complete the income portion of the application.
Charges
Students have a limited charge privilege. If a student arrives at school without money, they are allowed up to 5 days of charges. If a child arrives at school without money for lunch and has reached the charge limit, he/she will be provided an alternate meal (such as a cheese sandwich and milk). Charge letters will be sent home with the students to notify parents of charges at the first negative balance and the alternative meal policy. Charges are not allowed for extras or ala carte items. Parents will be able to pay for student meals with cash, money order, check or online at www.k12paymentcenter.com.
---
Paying for School Meals
Pay by Cash
Place money into an envelope, seal, and please include the following information on the envelope front:
Your child's first and last name

Teacher's name

Grade

Student ID Number.
Pay by Check
Please make checks payable to the school. It is advisable to use separate checks if you are paying for more than one child to ensure that the correct amount is credited to each child's account. Please be SURE ALL the following information is included on the check.
Adult Name

Physical Address

Telephone Number

Your child's first and last name and ID Number.

School's Name
All checks deposited into the school nutrition bank account that fail to clear the bank are returned to Checkredi collection service. The check writer's account will be debited electronically for the amount of the NSF check. The check writer is also liable for a state allowed collection fee.
Pay by Money Order
Please make money order payable to the school and include:
Your child's first and last name

ID Number
Online Payment Option
Parents are able to pay for student meals with cash, money order, check, or online payment. Beginning SY2015–2016, Whitfield County Schools Nutrition Department is excited to offer a new prepay system online. This new payment option will not replace cash and check payments, but is an additional payment option for your convenience. Features offered by the on-line solution are:
See your student's meal balance at anytime from anywhere

Deposit payments for multiple students in just one click

Setup recurring payments for monthly or weekly deposits

Reviewing individual student meal histories

Automated notifications via email or text when your student's balance falls below an amount you choose
Visit K12PaymentCenter.com to setup your child's account. You will need your child's Student ID number to setup an account. If you do not know your child's Student ID number you may contact your child's cafeteria manager.
Monthly lunch menus can be viewed on the Whitfield County Schools website at www.whitfield.k12.ga.us. Look for the menu icons in the center of the page for Elementary School (ES), Middle School (MS), and High School (HS).
Outside Food
Students are encouraged to eat school prepared meals. Food items brought from home to be consumed in the school cafeteria should be in appropriate containers such as paper bags or lunch boxes. Containers with advertising (such as Wendy's, McDonald's, etc.) should not be brought into the school cafeteria. Carbonated beverages should not be brought to school.
---
Nutrition Standards for School Meals
As a part of the United States Department of Agriculture's (USDA) New Meal Pattern, school meals will offer foods and portion sizes recommended by the 2010 Dietary Guidelines for Americans and are a key component of the Healthy, Hunger-Free Kids Act of 2010. This includes:
More whole grain rich-foods

More fruits and increased varieties of vegetables

Low-fat and fat-free milk choices

Sodium reductions and trans-fats removed

Age-appropriate portion sizes
The New Meal Pattern raises nutrition standards in schools across the nation and is expected to play a key part of improving the health and nutrition of more than 32 million students nationwide, including the 1.59 million students statewide in Georgia.
"We are working diligently to ensure that school nutrition professionals are ready to start applying these positive changes to school meals this year" said Georgia School Nutrition Division Director, Nancy Rice. "Our state has successfully trained School Nutrition Directors for each local school district. We will also continue to provide resourceful materials so that the implementation of healthier meals will also foster a conversation about healthy food choices at school and at home."
Visit the USDA Food and Nutrition Service website to learn more about the federal nutrition standards for school meals.
---
Wellness Program
The Whitfield County Board of Education recognizes that student wellness and proper nutrition are related to students' well-being, growth, development, and readiness to learn. The Board is committed to providing a school environment that promotes and protects student wellness, proper nutrition, nutrition education, and regular physical activity as part of the total learning experience. In a healthy school environment, students will learn about and participate in positive dietary and lifestyle practices that can improve student achievement.
Click to review the entire Local Board Policy EEE—Wellness Program at the Whitfield County Schools policy page.
---
Careers in School Nutrition
Those interested in working as a substitute for absent lunchroom staff may contact Ashton Staffing. Applicants may complete an application at their office at 306 North Thornton Avenue in Dalton (click for map). Monday through Thursday from 8 a.m. to 12 p.m.
For more information, visit Ashton Staffing's Dalton office, call (706) 370-4695, or email dalton@ashtonstaffing.com.
---
USDA is an equal opportunity provider and employer.