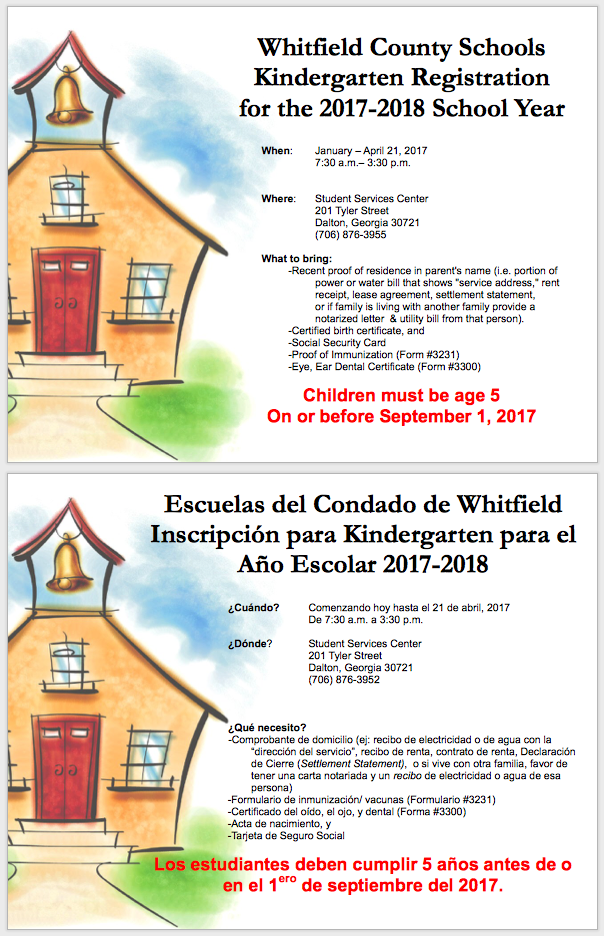 Kindergarten registration for the 2017–2018 school year at Whitfield County Schools is under way.
Families may register kindergarteners at the Whitfield County Schools Support Services Center at 201 East Tyler Street in Dalton. Applications are accepted Monday through Friday from 7:30 a.m. to 3:30 p.m.
Please submit all applications at the Enrollment Center. Applications will not be accepted at the schools. No appointments are necessary and your child does not need to be present at registration; however, your child must be present at the kindergarten assessment.
Please bring the following items when registering for kindergarten:
Georgia proof of immunization (form 3231),

Georgia eye/ear/dental certificate (form 3300),

child's Social Security card,

certified birth certificate, and

most recent proof of residence in parent's name (i.e. rent receipt, lease agreement, settlement statement, portion of power or water bill that shows "service address," or if family is living with another family provide a notarized letter & utility bill from that person).
Kindergartners must be five years old on or before Sept. 1. Staff at your child's school will conduct a simple school readiness assessment on Monday, April 24 from 8 a.m. to 6 p.m., and from 8 a.m. to 2 p.m. on April 25–27.
For more information, please contact the Enrollment Center at (706) 876–3955. Llame el Centro de inscripción al (706) 876-3931.